Butler Watch Company Salutes Dedicated Individuals in Aviation.
Butler Watch Company periodically acknowledges outstanding and committed individuals with our own brand of salute; "Pillar of Aviation."


In the aviation industry, a great number of people provide behind the scene effort to implement, and uphold the myriad of requirements necessary for safe and efficient operations. Their job titles include mechanic, dispatcher, administrator, fueler, aircraft support and customer service personnel, air traffic controller, engineer, etc.
At Butler Watch Company, we value the inspiration found in people throughout the world who dedicate themselves to making a positive contribution in aviation. Good people are the essential support that aviation depends on to exist as a safe and efficient endeavor, for everyone to enjoy.
Certain individuals are especially influential because of their devotion to their position. They exude passion about meeting and exceeding the standards required of them. This person will go beyond the description of their job duty, making creative solutions where necessary and donating personal time to their commitment. As a result, they impact their environment in a positive manner and are inspirational through both action and personality. These people are Pillars of Aviation.

People make it possible.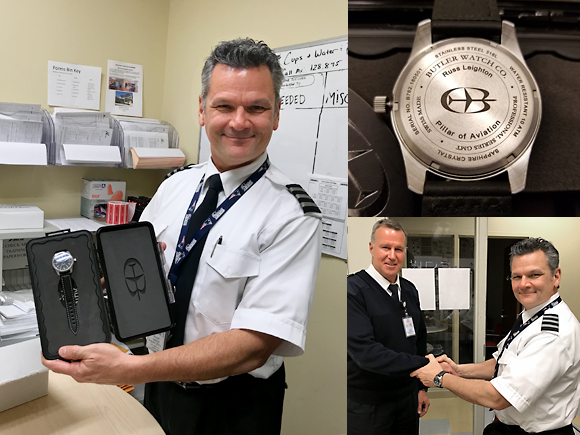 Help Butler Watch Company salute other outstanding individuals.
Butler Watch Company will acknowledge a new "Pillar of Aviation" recipient periodically.
Aviation enthusiasts are welcome to join the process of selecting other individuals for our "Pillar of Aviation" salute. Please register for our e-newsletter to receive more information about nominating an outstanding individual in your aviation comunnity.
Pillar: Noun [ p i l – e r ]
1. A person who is a chief supporter of a society, state, institution, etc.:
"a pillar of the aviation community."